How To Balance Hormones

Women for Women OB/GYN LLC is exactly what our name implies; six female Board-certified/ Board-eligible OB/GYN physicians and one female certified nurse practitioner all working cooperatively to offer the best possible care for women from puberty through menopause. Women for Women OB/GYN provides comprehensive obstetrical and gynecological care from routine check-ups to emergency procedures. We are experts in general obstetric and gynecological care, high-risk obstetrics, laparoscopy, and hysteroscopy. We provide many specialty services including bone densitometry, gynecological sonography, 4-D obstetrical ultrasound, minimally invasive surgery, cosmetic treatments, and personalized wellness consultations.
Our office is on Hollow Ln and our providers are all on staff at LIJ. Steven and Alexandra Cohen Children's Medical Center of New York which contains a neonatal intensive care unit is part of LIJ and we work closely with their staff as well. The physicians operate with a team approach. Gynecological patients will have a primary care doctor within our practice, but in an emergency, it is possible that they may be attended to by one of the other physicians. Obstetrical patients will rotate with all of the physicians, as we work as a team to provide the most comprehensive care.
Regular Office Hours
8:30 a.m. to 8:00 p.m., Monday through Thursday
8:30 am to 3:00 p.m. on Friday
Make sure you have your copay and all insurance information including insurance cards and, if necessary, your HMO referral at the time of your appointment. Our practice is fully compliant with all federal, state and local mandates. Therefore, please be sure to have a picture ID available at the time of check in. We do our best to see you at your appointment time but occasional emergencies or deliveries may cause delays. We will do our best to keep you from being inconvenienced. There will be a $30 no-show fee for missed appointments without calling the office to cancel. Please feel free to call prior to your appointment to see that we are running on time.
Balancing Hormones With Our OBGYN in Lake Success
Hormones are the chemical messengers that affect your mental, physical, and emotional health. They are your body's chemical messengers, traveling to tissues or organs in your bloodstream. Hormones work overtime and affect several different processes throughout the body, including growth and development, metabolism, sexual function, mood, and more. Typically, the body produces a precise amount of each hormone needed for various processes to stay healthy. Contact our obgyn in Lake Success for help with hormone balancing.
What are Hormones?
Hormones are produced from the endocrine glands in the body. Some major endocrine glands in the body are the pituitary gland, pineal gland, thymus, thyroid, adrenal glands, pancreas, testes, and ovaries.
These different organs produce microscopic amounts, taking only a very small amount to bring significant changes in the body. A small excess or deficiency of hormone production can lead to serious changes throughout the body.
What is a Hormonal Imbalance?
A hormone imbalance occurs when there is too much or too little of a certain hormone in the body. An obgyn in Lake Success can help you figure out if you have a hormonal imbalance and how to fix the problems. Some hormone levels fluctuate throughout life and may occur due to aging, although other changes occur when endocrine glands are not functioning properly.
There are many signs and symptoms of a hormonal imbalance. These will depend on which hormones or glands aren't working the right way. Several common hormonal conditions could cause any of the following symptoms: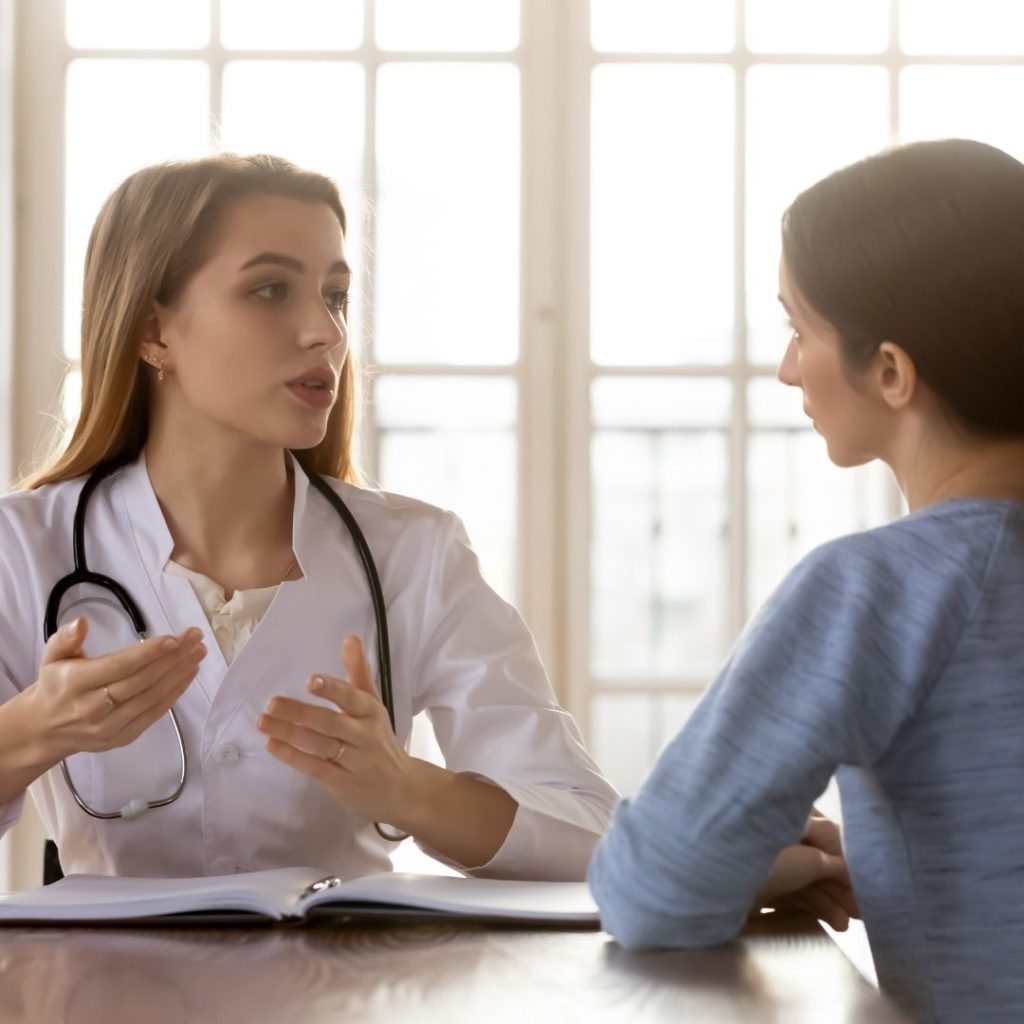 Weight gain
Weight loss
Muscle weakness
Fatigue
Muscle aches, tenderness, or stiffness
Increased or decreased heart rate
Sweating
Increased sensitivity to cold or heat
Frequent urination
Increased thirst
Increased hunger
Decreased sex drive
Depression
Blurred vision
Dry skin
Puffy or rounded face
Having one or more of these symptoms does not necessarily indicate a definite hormonal imbalance. Seeking medical advice from an obgyn in Lake Success can help diagnose and treat your symptoms and signs.
The normal hormonal cycle naturally changes during puberty, pregnancy, breastfeeding, and menopause in females. There are some specific symptoms to look out for in women, indicating a hormonal imbalance. These include heavy or irregular periods, acne, hair loss, skin darkening, vaginal dryness, pain during sex, headaches, and more.
Causes of a Hormonal Imbalance
There are lots of different possible causes of a hormonal imbalance. It depends on which hormones or glands are affected in the body. Some common causes of a hormonal imbalance include medications, cancer treatments, eating disorders, stress, injury or trauma, hormone therapy, and more. Additionally, conditions such as diabetes, hypothyroidism, Cushing syndrome, Addison's disease, thyroiditis, and others can lead to hormonal imbalances.
Unique to women, hormonal imbalances may be related to reproductive hormones, including common causes of menopause, premature menopause, pregnancy, breastfeeding, PCOS, and hormone drugs.
To determine if you have a hormonal imbalance, meet with an obgyn in Lake Success to answer questions and take one or more diagnostics tests. Blood tests, pelvic exams, ultrasounds, and more may be used to diagnose you with a hormonal imbalance.
How to Naturally Balance Your Hormones
For many people, small and simple lifestyle changes can help restore proper levels of hormones in the body. A well-balanced diet and healthy habits may improve your hormonal health and allow you to feel your best. Here are some ways to naturally balance your hormones.
Get enough protein. Proteins provide amino acids that your body cannot make on its own and are needed to produce peptide hormones. These hormones play a crucial role in regulating several physiological processes, including growth, energy metabolism, appetite, stress, and more.
Exercise regularly. Getting enough physical activity strongly influences your hormonal health. It enhances hormone receptor sensitivity, helping the delivery of nutrients and hormone signals.
Maintain a moderate weight. Weight gain is directly associated with hormonal imbalances. Obesity relates to a lack of ovulation in women. Eating within your calorie range can help maintain hormonal balance.
Watch your gut health. Your gut produces numerous metabolites that can affect hormone health.
Lower sugar intake. Minimizing added sugar intake can help balance hormones. Eating added sugar promotes insulin resistance, and fructose intake is linked to disruptions in the gut microbiome, ultimately leading to hormonal imbalances.
Reduce stress. Stress can significantly harm the body's hormones in many ways. Work to decrease and manage your daily stress.
Get enough sleep. Sleep is one of the most important factors in hormonal imbalance. The levels of hormones can rise and fall throughout the day due to the quality of sleep.
Eat healthy fats. Healthy fat intake can work to maintain balanced hormones that are involved with appetite, metabolism, and feeling full.
Eat plenty of fiber. Fiber plays a role in gut health, helping regulate hormones like insulin.
Managing Your Hormones with Our obgyn in Lake Success
It's important to regularly visit your obgyn in Lake Success to ensure you have healthy hormone production and good lifestyle habits. Your hormones are involved in almost all aspects of your health. They need to be in good standing for your body to optimally function and feel good. Contact Women for Women today to schedule your appointment and get your hormones balanced and feeling right.
See What Patients Have to Say!

Found women for women during my final and fourth pregnancy. I have had the best care and pregnancy due to this practice of super smart and personable doctors. I can't say enough how smart and caring they are. I had the pleasure of working with Dr.Scott-Ram, Smizer & Hirshhorn. My C Section went wonderfully & I believe it was all due to their care. Thank you so much Women for Women! – Justine R.

Dr. Hirschhorn delivered our kids via caesarian section and we had a great experience. She explained everything to us adequately and made us feel very comfortable. We saw Dr. Smizer a few times in the office, too. We really recommend her, as well. They both took their time with us and were very friendly. Wait times were longer (sometimes more than 1 hour) with Dr. Smizer, but it was worth it by the end. The office staff is courteous, as well. Yes, spouses do need to be vaccinated for COVID-19 in order to accompany pregnant women for the visit, and the receptionists do check. It's not a big deal. Don't know why so many people are complaining in other reviews about this. Likely due to poor health and science literacy. Seriously people, get vaccinated! – Jaideep K.

I had a great experience with all the doctors and staff at this facility. I was always treated with respect and courtesy. With the exception of one visit my wait time was always kept at a minimum. If I had an emergency and contacted the emergency line there was always a doctor to talk to. Unfortunately my plans for a vaginal delivery was thwarted and I had to get a Csection after an induction but I have no complaints….Dr. Bell did an amazing job and I am eternally grateful to her for delivering our baby girl. – Natoya F.

I had a great first visit! I was definitely anxious about going to a new OBGYN, but the doctor and staff put me at ease right away. The front desk and medical assistant were especially nice and accommodating. Dr. Sanders was very friendly and professional, I really appreciated meeting in her office to go over my medical history before the exam. Overall I had an excellent visit and am excited to come in again. – Jessica W.