GYN in Forest Hills
Women for Women OB/GYN LLC is exactly what our name implies; six female Board-certified/ Board-eligible OB/GYN physicians and one female certified nurse practitioner all working cooperatively to offer the best possible care for women from puberty through menopause. Women for Women GYN in Forest Hills provides comprehensive obstetrical and gynecological care from routine check-ups to emergency procedures. We are experts in general obstetric and gynecological care, high-risk obstetrics, laparoscopy, and hysteroscopy. We provide many specialty services, including bone densitometry, gynecological sonography, 4-D obstetrical ultrasound, minimally invasive surgery, cosmetic treatments, and personalized wellness consultations.
Our office is on Hollow Ln and our providers are all on staff at LIJ. Steven and Alexandra Cohen Children's Medical Center of New York which contains a neonatal intensive care unit is part of LIJ and we work closely with their staff as well. The physicians operate with a team approach. Gynecological patients will have a primary care doctor within our practice, but in an emergency, it is possible that they may be attended to by one of the other physicians. Obstetrical patients will rotate with all of the physicians, as we work as a team to provide the most comprehensive care.
---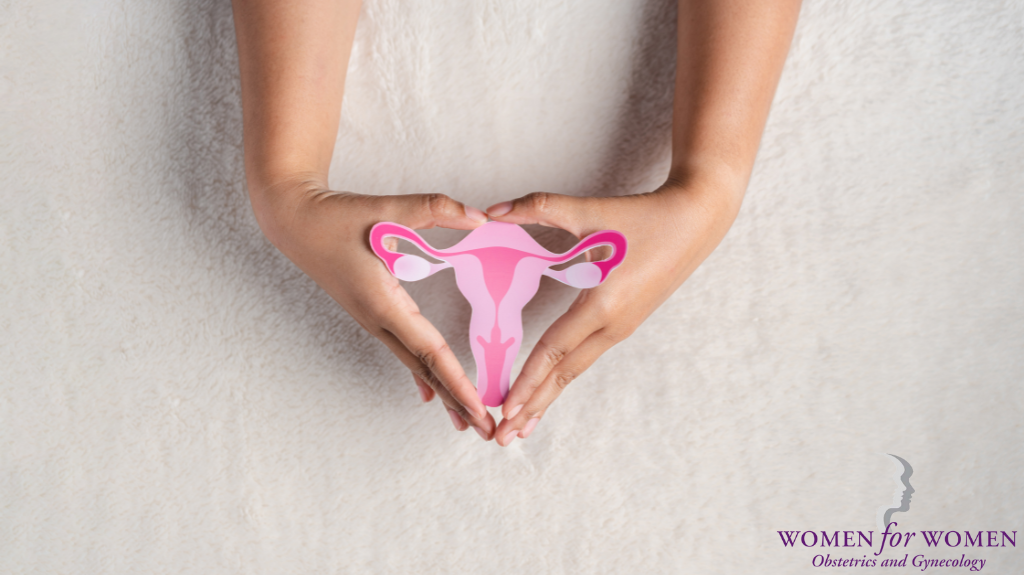 When Should You Start Going To The Gynecologist?
A doctor who focuses on identifying and treating illnesses of the female reproductive system is known as a gynecologist. Your reproductive system is in charge of menstruation and pregnancy. ​​Gynecologists monitor your reproductive health from puberty till menopause. Depending on how the condition affects your reproductive system, a gynecologist may also be able to treat conditions affecting your urethra, bladder, and rectum. If you are looking for a GYN in Forest Hills, contact Women for Women Obstetrics and Gynecology today and schedule an appointment!
When to Go
For cervical cancer screening, a woman should see a gynecologist for the first time at age 21. Anyone less than 21, who is sexually active, should see a doctor familiar with gynecologic care every year. For sexually active women aged 24 and under, annual screenings are advised. It can also be necessary to screen for additional STDs. Given the effectiveness of urine screening, removing the need for a pelvic exam often simplifies this screening for many women, regardless of age. Likewise, periods that are heavy or irregular or that interfere with daily activities despite taking over-the-counter pain relievers like acetaminophen or ibuprofen are other reasons to consult an OB/GYN before age 21. If you require GYN in Forest Hills, call Women for Women Obstetrics and Gynecology today and schedule your appointment!
How to Prepare
Before going in for a cervical cancer screening appointment, a young woman who has never had a pelvic exam should have a "get to know you" appointment with an OB/GYN. Without the pressure of an impending exam, now is an excellent moment to build trust. A qualified doctor should be able to explain the tools used during the exam, discuss the value of cervical cancer screening and S.T.I. screening, and allay any fears one may have about the procedure.
How GYN in Forest Hills Can Help
Women for Women OB/GYN offers complete obstetrical and gynecological care, from annual exams to urgent treatment. We have specialized knowledge in hysteroscopy, laparoscopy, high-risk obstetrics, and general obstetric and gynecological care. Bone densitometry, gynecological sonography, 4-D obstetrical ultrasound, minimally invasive surgery, cosmetic procedures, and individualized wellness consultations are just a few of our specialty services.
If you are looking for an experienced, caring gynecology practice, we are the one for you! If you are in need of a first-time appointment for a GYN in Forest Hills, contact Women for Women Obstetrics and Gynecology today and schedule your appointment!
Looking For A GYN In Forest Hills, NY 11375
---
What To Expect During A Pelvic Exam?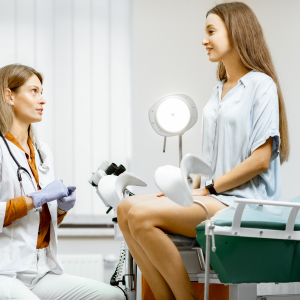 During a pelvic exam, a gynecologist evaluates your reproductive organs. Pelvic exams are usually part of a regular checkup routine. A pelvic exam may also be recommended if you have unusual symptoms such as pain or abnormal vaginal discharge. A pelvic exam only lasts a few mins, and it's not painful, although some parts might cause discomfort. Our gynecologist in Nassau County is looking specifically at your vagina, vulva, cervix, ovaries, uterus, rectum, and pelvis for abnormalities. A Pap test is done during the exam and is a swab that screens for cervical cancer. You can trust the team at Women For Women Obstetrics and Gynecology when you need an exam performed. Our all women team is here in Nassau County, NY to support the women in our community. Contact us today if you want to schedule an appointment or questions about how we can help you.
Why It's Done
A pelvic exam is performed to assess your gynecological health. During the exam, your doctor can find possible signs of ovarian cysts, sexually transmitted diseases or infections, early stages of cancer, and uterine fibroids. If you are dealing with pain, unusual vaginal bleeding, skin chases, urinary problems, or abnormal discharge, your doctor may perform a pelvic exam to diagnose your medical condition.
As gynecologists in Nassau County, NY, we understand that appointments can sometimes cause anxiety, but our highly skilled, and caring staff is here to help and make you feel comfortable coming to us about your health concerns. Contact us today to schedule an appointment.
How To Prepare
There is nothing you specifically need to do to prepare for your pelvic exam. Although for your comfort, you may want to schedule your appointment for a day you're not on your period. You might also want to empty your bladder for the exam. If you have any questions or concerns, you can consider writing them down, so you don't forget to ask your doctor.
What Can You Expect?
You'll be asked to change into a gown and be given a sheet to wrap around for additional privacy. You'll be lying down with your knees bent. An external visual exam will be the first thing your doctor will do to check your vulva for swelling, redness, and irritation.
During the internal visual part of the exam, the doctor will insert a plastic or metal-hinged instrument called the speculum. This is used to open your vaginal walls so that your doctor can see your cervix and vagina. This is known as the worst part of the exam, not that it's painful but causes discomfort.
If you are in pain, notify your doctor. Your doctor will also give you a pap smear by swabbing cervical walls before removing the speculum. During the physical exam part, your doctor will insert two lubricated, gloved fingers into your vagina with one hand. In contrast, the other hand presses gently on the outside of your lower abdomen to feel for the abdomen and pelvis.
After The Pelvic Exam
Once it's over, you can get dressed and review your results with your doctor. Your doctor can tell you immediately if there's something wrong. A pap smear test can take a few days to get back results. Your doctor will discuss any treatments, follow-ups, or additional tests with you. Our gynecologist in Nassau County, NY, will make you feel most comfortable during your exam. Feel free to contact us today to schedule an appointment or if you have questions about an exam.
Do Pregnant Women Need Pelvic Exams?
Yes, pregnant women do need pelvic exams. Your healthcare provider will perform a pelvic exam at your first prenatal visit.
GYN In Forest Hills
Talk to your healthcare provider about how often you should schedule a pelvic exam. Never hesitate to discuss your concerns or any worries you may have about the exam or test results. Your provider is only here to listen to and work with you to ensure you receive the best care possible. Schedule an appointment with one of our skilled professionals today!
---
Many believe that hormonal birth control is only used to prevent pregnancy. While it is considered highly effective compared to other birth control methods, the effects are not just limited to pregnancy prevention. In fact, birth control can be used to treat several health concerns like skin changes, menstrual problems, and more. However, hormonal birth control does not come without side effects, and there are potential risks and effects that affect every individual differently. At Women for Women, our GYN in Forest Hills would like to discuss some common issues with birth control that patients experience.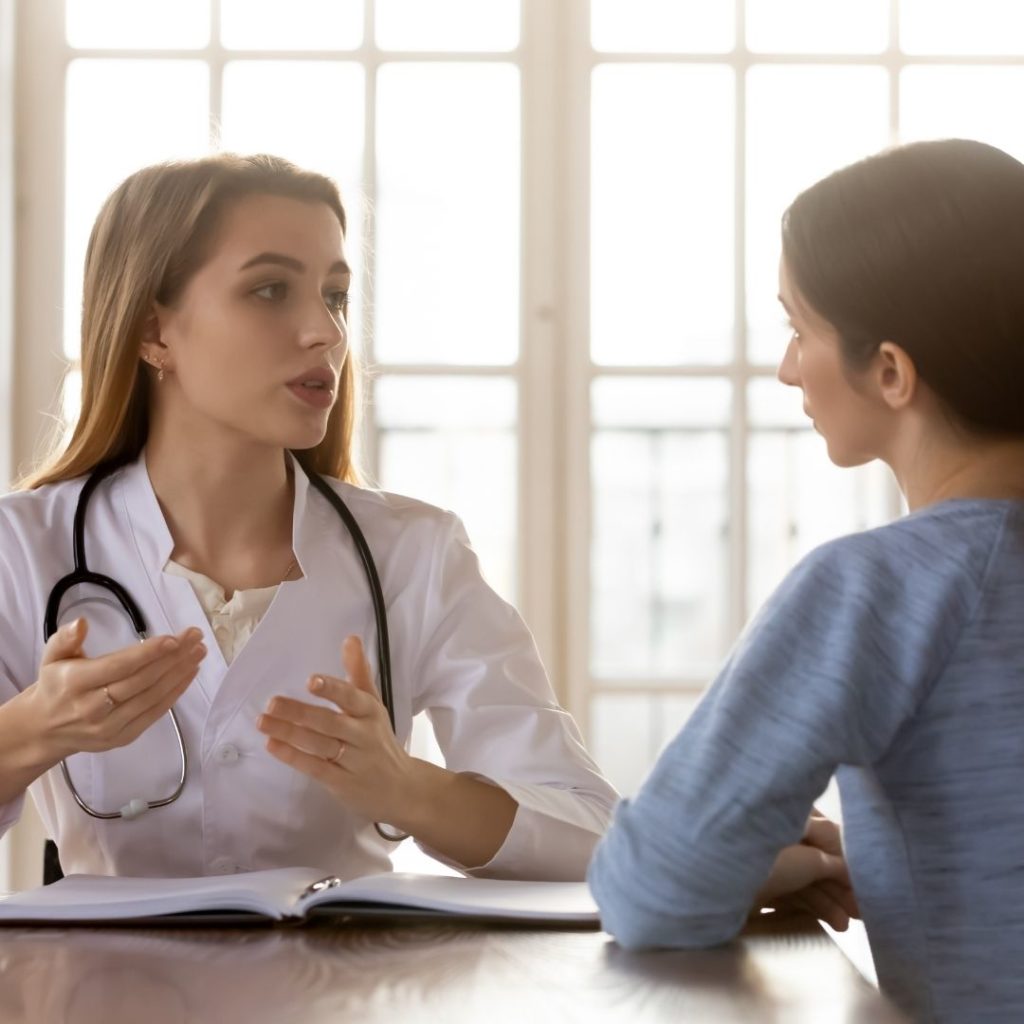 What Is Birth Control?
Hormonal contraceptives come in several different forms, including:
Oral Contraceptives (Pills) – Oral contraceptives are only dispensed with a prescription. Pill brands tend to have varying amounts of estrogen and progestin in them. The pill must be taken every day to prevent pregnancy.
Ring – The ring is similar to the patch and pill, as the ring also releases estrogen and progestin into the body. The ring is placed inside the vagina so the vaginal lining can absorb the hormones. Rings need to be replaced monthly.
Patch – The patch is placed on the skin and contains estrogen and progestin and must be changed once a week to be fully effective.
Intrauterine Devices (IUDs) – Your doctor inserts this form of birth control into the uterus, and it must be changed every 3 to 10 years. Some IUDs do not release hormones. In ones that do, they contain progesterone.
Implant – The implant releases progestin through a thin rod in the arm. The implant is placed on the inside of your upper arm under the skin and lasts for up to three years.
Shot (Depo-Provera) – The Depo-Provera post only contains progestin and needs to be administered every 12 weeks at the doctor's office. The effects of this shot can last up to a year after you stop taking it.
Each variation of hormonal birth control has similar benefits and risks, but every individual responds differently. If you are interested in hormonal birth control, our GYN in Forest Hills can help you find the type most effective for you.
What Are Common Issues With Birth Control?
There is no one-size-fits-all formula for hormonal birth control. As previously mentioned, birth control affects everyone differently. Effectiveness depends on how consistent your use is. Some patients have difficulty remembering to take a pill every day, so an IUD or implant may be a better choice. Our GYN in Forest Hills can help you determine which form of contraception is best for your needs and lifestyle. Birth control is safe for most patients, but all medicines have some side effects and risks. Here are some common issues patients experience with birth control:
Cardiovascular System
A healthy patient that does not smoke is less likely to experience side effects from oral contraceptives. Birth control patches and pills can potentially increase blood pressure for some individuals, and the extra hormones can put them at risk for blood clots. These risks can be even higher if you:
Have high blood pressure.
Are over the age of 35
Smoke
Have pre-existing heart disease.
Have diabetes.
Reproductive System
Some patients experience reproductive side effects as their body adjusts to oral, inserted, and patch contraceptives. Some of these can include:
Extra bleeding.
Loss of menstruation (amenorrhea).
Spotting between periods.
Breast tenderness.
Changes in libido.
Vaginal irritation.
Breast enlargement.
Digestive System and Skin Changes
Some patients experience weight changes and changes to their appetite while taking hormonal birth control. Hormones can help regulate your eating habits, and changes to your eating patterns can affect your weight. Many patients use birth control to improve their acne. On the other hand, some people experience new breakouts of acne. Sometimes, birth control can cause unusual hair growth, but it is more commonly found to be helpful with unwanted hair growth.
Contact Our GYN in Forest Hills
At Women for Women, our GYN in Forest Hills is here to help you find the method of birth control that works best for you. If you feel that your current birth control is not right, being honest about your issues and how they make you feel can help you find the dosage and type you need. Contact our office today to learn more or to request an appointment!
---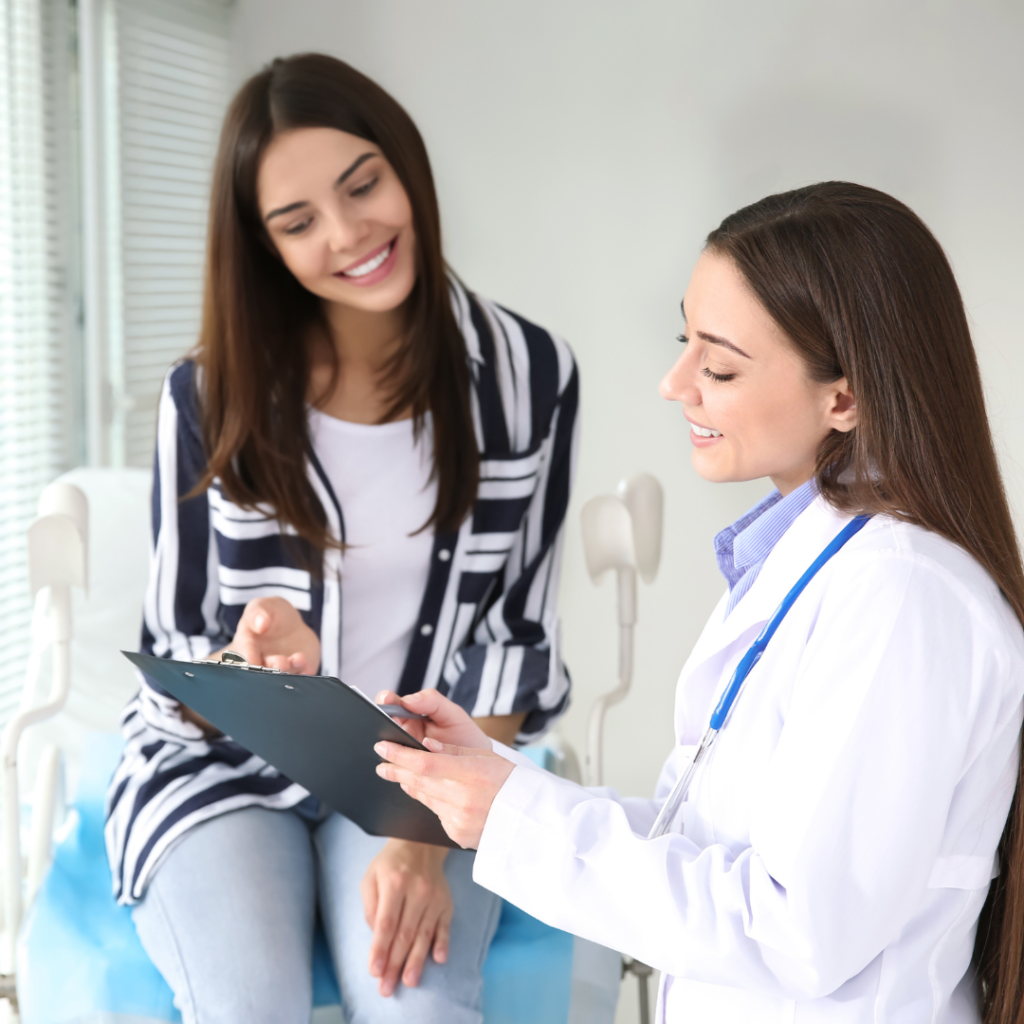 Hormone imbalances occur when you have either too much or not enough of a hormone in your body. Hormone imbalances can cause many different types of problems in your body because hormones play an essential role throughout the entire body. There are many potential causes for hormone imbalances, including issues with your body's glands, puberty, menstruation, menopause, and many different conditions such as diabetes, Turner Syndrome, and certain cancers. Additionally, issues with your reproductive tract and pelvic organs may also contribute to hormone imbalances. If you are suffering from hormone imbalances or are in need of a gyn Forest Hills, reach out to Women for Women Obstetrics and Gynecology to get the help you need!
Symptoms of Hormone Imbalances
Hormone Imbalances can cause a large variety of symptoms, but depending on which hormone or gland is affected and causing the imbalances, some symptoms are more common than others. Among the most common symptoms of hormone imbalances are:
Difficulty sleeping.
Unexplained sweating or changes in weight.
Changes in blood pressure or heart rate.
Depression or anxiety.
Changes in appetite or thirst.
Fatigue or headaches.
Changes in sex drive.
Infertility.
Tenderness in the breast.
Many more.
While these are possible symptoms of any hormonal imbalance, there are specific hormonal imbalance disorders that are more likely to occur in women than in men. Some of these disorders include polycystic ovary syndrome, ovarian cancer, early menopause, and primary ovarian insufficiency. If you think you may be suffering from one of these disorders and are in need of a GYN in Forest Hills, contact us at Women for Women Obstetrics and Gynecology to get help today! These disorders can also lead to hormonal imbalance symptoms that are specific to women such as:
Abnormal periods.
Hot flashes.
Vaginal dryness.
Abnormal uterine bleeding.
Abnormal hair growth.
Deepening of the voice.
Clitoral enlargement.
How to Balance Hormones
While there are many different factors that can affect the balance of your hormones, there are things you can do to help return balance to your hormones. Examples of things you can try to get your hormones back on track include:
Proper sleep cycles – The quality and amount of sleep you get can have a large impact on your hormonal levels and balance. Your hormones can rise and fall throughout the day depending on your sleep. Getting a complete and undisturbed sleep at night can be very beneficial in regulating your body's hormone levels.
Reduce stress – Your stress, endocrine system, and hormone levels are all connected. When you are stressed, you have higher adrenaline and cortisol levels, which can throw off the overall balance of your hormones. This is why it is important to find ways to reduce your stress regularly.
Avoid blue light at night – Blue light, such as that from phone screens and computer screens, tricks the body into thinking it is exposed to sunlight. Since your body doesn't think it is night time, it may suppress melatonin production, which can negatively affect many functions in your body, including hormone balance.
Avoid refined sugars – Consuming large amounts of refined sugar can affect the production of insulin, a hormone that allows your body to use sugar from carbohydrates in food for energy or to store glucose for later use. When insulin production is affected, it can have adverse effects on many parts of your body.
Get sufficient protein – An optimized meal for hormone regulation may contain up to 20-30 grams of protein. Proteins have many essential amino acids that your body cannot produce on its own that are used in producing many different hormones in your body. Without an adequate amount of protein, your body may struggle to regulate hormones.
Consume dairy sparingly – Eating dairy products has been shown to reduce levels of certain hormones, especially in women.
There are several specific treatment options available for women with hormonal imbalances. While every person is different and may require different treatments, here are a few of the treatments often utilized for regulating hormonal imbalances in women:
Hormone control or birth control – Estrogen and progesterone present in these medications can help regulate menstrual cycles and symptoms as well as regulate the production of certain hormones.
Anti-androgen medications – These medications help block male-related hormones in women. When these hormones are imbalanced, it can cause severe acne or irregular loss or growth of hair.
Hormone replacement medications – These medications are often used to treat symptoms of menopause, like hot flashes. The work by helping to regulate some of the hormonal imbalances caused by menopause.
Contact us For A Gyn in Forest Hills
There are several different causes of hormonal imbalances that can result in a wide variety of symptoms and complications. If you are a woman dealing with hormonal imbalances, your pelvic organs or reproductive tract may be one of the causes of your issues. If you are in need of a gyn Forest Hills in relation to your hormone issues, contact us at Women for Women Obstetrics and Gynecology to discover how we can help you today!
---
Why Choose Women for Women, a Leading Gynecologist in Forest Hills
Are you searching for comprehensive women's health care in Forest Hills, Queens? Look no further. Women for Women, a distinguished gynecology and obstetrics practice, is here to provide you with top-notch medical services catered to women's unique healthcare needs. In this article, we'll explore the exceptional services offered by Women for Women, emphasizing why choosing them is a decision that prioritizes your health and well-being.
Unveiling Women for Women
Let's begin by uncovering what makes Women for Women the go-to choice for women's healthcare in Forest Hills.
Why Choose Women for Women in Forest Hills?
Women for Women is dedicated to providing expert care to women at every stage of life. Whether you're seeking gynecological services, obstetric care, or assistance with family planning, our team of experienced healthcare professionals is committed to offering personalized, compassionate, and empathetic care tailored to your unique needs.
Your Journey with Women for Women
Discover the exceptional services and care you can expect when you choose Women for Women as your trusted gynecologist in Forest Hills.
1. Comprehensive Gynecological Care
At Women for Women, we understand that women's health needs are diverse and unique. Our board-certified gynecologists offer a wide range of services, from routine well-woman exams and pap smears to the management of complex gynecological conditions such as fibroids, cervical issues, and urinary incontinence. We're here to address your specific concerns and provide individualized care every step of the way.
2. Obstetric Care with a Personal Touch
Pregnancy is an exciting journey, and having a supportive obstetrician by your side is crucial. Our obstetrics team specializes in prenatal care, guiding you through the different stages of pregnancy to ensure a healthy and safe experience. From your very first prenatal visit to the joyous moment of childbirth, Women for Women is here to support you and your growing family.
3. Minimally Invasive Procedures
If you require surgical intervention, Women for Women excels in minimally invasive procedures. Our OBGYN, MD are skilled in techniques that minimize discomfort and downtime, ensuring you receive the best care while getting back to your daily routine as swiftly as possible.
4. Empathetic and Friendly Staff
The team at Women for Women is known for its warm and welcoming approach. Our staff understands the sensitive nature of women's health concerns and strives to create a comfortable and reassuring environment for all patients. Your well-being and peace of mind are our top priorities.
Frequently Asked Questions About Women for Women
Let's address some common questions about Women for Women and the services they offer.
1. How can I make an appointment with Women for Women in Forest Hills?
Booking an appointment with Women for Women is easy. You can schedule your visit online or contact our friendly staff by phone.
2. What sets Women for Women apart from other gynecologists in Forest Hills?
Women for Women stands out for its empathetic and patient-centered approach to care. With over 20 years of experience, our healthcare providers have a deep understanding of women's health needs and are dedicated to delivering thoughtful and personalized care.
3. Do you accept insurance plans?
Yes, Women for Women accepts various insurance plans. Our goal is to make quality healthcare accessible to as many women as possible. Contact our gynecologist near forest hills, visit us today!
Prioritizing Your Health
When it comes to women's health, choosing the right healthcare provider is essential. Women for Women, with its years of experience, commitment to personalized care, and dedication to your well-being, is the ideal choice for women in Forest Hills. Your health matters, and Women for Women is here to ensure you receive the best care possible. Schedule your appointment with our gynecologist near queens boulevard, rego park, mount Sinai, long island at Women for Women today. Your journey to optimal health and well-being begins here.