An obstetrician is a doctor who specializes in pregnancy, childbirth, and the woman's reproductive system. Obstetricians who practice both obstetrics and gynecology are called OB/GYN's. Obstetricians specialize in obstetrics, which deals with all aspects of pregnancy and childbirth, from prenatal care to postnatal care. Women for Women Obstetrics and Gynecology, the best OBGYN in Lake Success, exists to serve you throughout your pregnancy.
What Does an Obstetrician Do?
Your obstetrician plays many roles in your pregnancy. During pregnancy, they will monitor your and your developing babies' health, often by doing routine ultrasounds, measurements, and tests. They also check for health conditions that could cause problems in pregnancy or affect your child, including high blood pressure, diabetes, infections, or genetic disorders. The best OBGYN in Lake Success will also assist in delivering your baby and monitoring your health afterward.
Reasons to Have an OB
An obstetrician understands the process of a high-risk pregnancy. If your pregnancy is considered to be high-risk, you will need to see an obstetrician more often to monitor your progress. They will be able to track the baby's growth and position, as well as refer you for tests and check-ups.
Education of an Obstetrician
To become an obstetrician, one must first take certain premedical coursework and earn a bachelor's degree. After that, you must take and pass the Medical College Admissions Test to be eligible for enrollment in medical school.
After four years of medical school, you need to complete a residency program for more experience. In the resident position, you may spend many hours in an office or hospital helping respond to emergencies, births, and other related procedures.
After all the proper training, you need to take a certification exam to become certified through The American Board of Obstetrics and Gynecology.
First Appointment with an Obstetrician
Your first visit with an obstetrician will include an overall health check to look for any signs that could affect your pregnancy. Usually done within 8 and 12 weeks of pregnancy, the OB will discuss routine tests, necessary vitamins, and a health plan for you and your child.
They will go through your medical history and likely do a thorough physical, including a pelvic exam, breast exam, urine test, pap smear, and blood work. Based on these tests, your doctor will be able to discuss possible genetic testing and specific warning signs and symptoms to look out for.
The first visit is a great time to ask all of your questions. Discuss any lifestyle changes or restrictions you may need to implement during your pregnancy. There are some general questions that you should ask during your first OB visit.
How much weight should I gain, and at what rate?
What screenings do I need?
What kind of diet should I follow?
What type of exercise should I do?
What over-the-counter medications are safe, and what to avoid?
What symptoms should I expect and how to manage them?
After the initial visit, you'll see the doctor about once a month throughout your pregnancy. The best OBGYN in Lake Success will set you up for routine checkups and visits to keep you and your baby healthy.
What Does an Obstetrician Treat?
Obstetricians also treat women with high-risk pregnancies, both during and after the pregnancy. One may be considered to have a high-risk pregnancy if you have a chronic health condition, are over the age of 35, are carrying multiple babies, engage in certain lifestyle choices (such as smoking or drinking), develop certain complications during pregnancy that affect you or the baby, and more.
In addition to high-risk pregnancies, OBs also treat several others, including: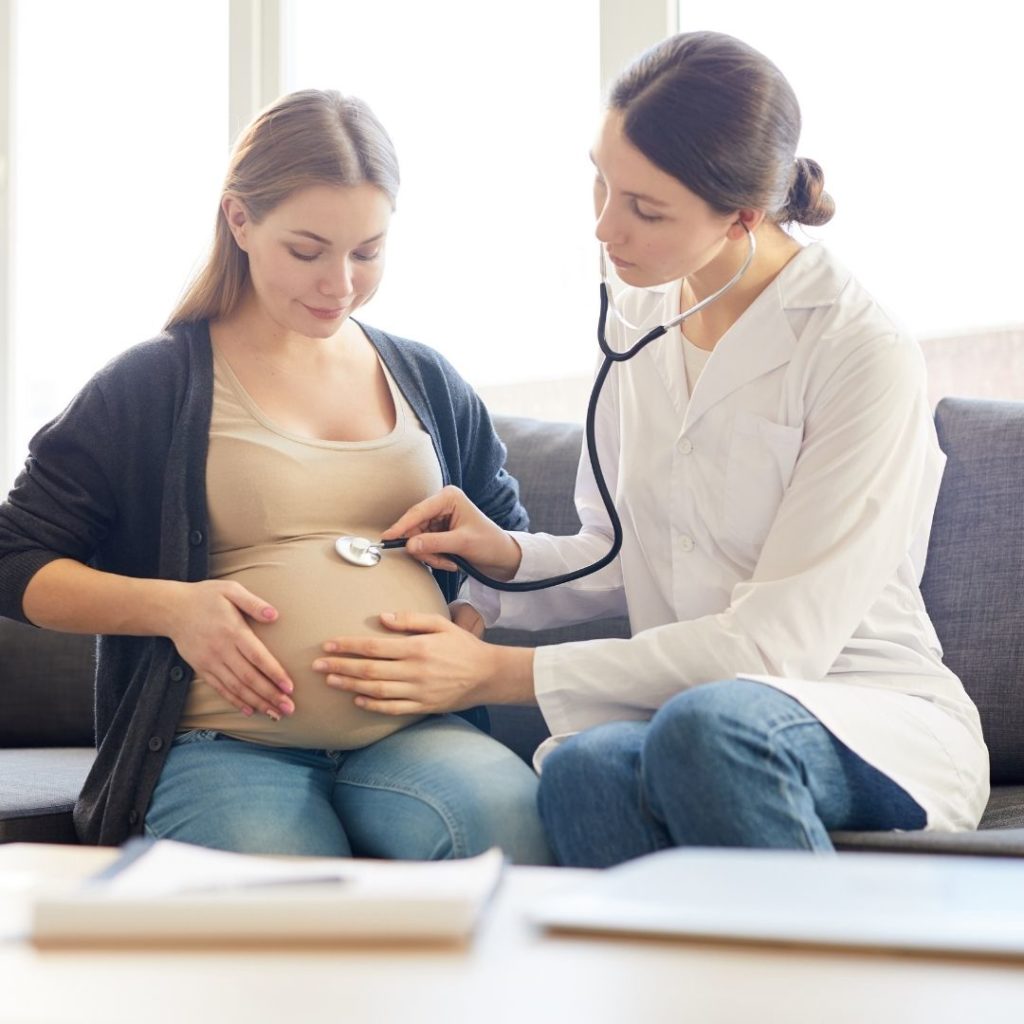 Ectopic pregnancy
Fetal distress
Preeclampsia
Placental abruption
Shoulder dystocia
Uterine rupture
Prolapsed cord
Obstetrical hemorrhage
Sepsis
Besides treatments, there are many different procedures that obstetricians perform. Aside from the routine appointments and labor and delivery services, obstetricians can also perform:
Cervical cerclage
Dilation and curettage
Cesarean delivery
Vaginal delivery
Episiotomy
Circumcision
Forceps and vacuum deliveries
In addition to treatments and procedures, obstetricians can perform certain tests, including:
Ultrasounds
Amniocentesis – used to determine fetus' sex and identify certain genetic abnormalities
Cordocentesis – umbilical blood sampling which evaluates certain infections, conditions, or blood disorders
Cervical length measurement – assesses the risk of preterm labor
Lab testing for several conditions
Biophysical profile – helps assess baby's well-being through heart rate monitoring and ultrasound
Best OBGYN in Lake Success 
Overall, your OB should be by your side throughout the entirety of your pregnancy. Women for Women Obstetrics and Gynecology offers a variety of services to assist you throughout your pregnancy journey. Contact us today to set up an appointment with an OB for you.